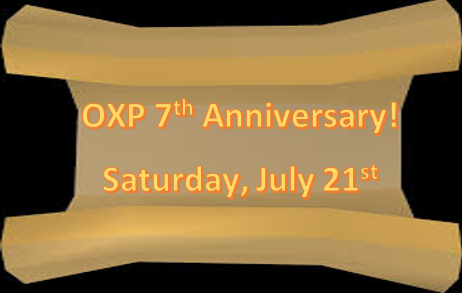 Overloaded XP was created on July 21st 2011, therefore we are having our 7th Clan Anniversary On Saturday, July 21st! Our clan has been through a lot in the last 7 years, and we owe it to all of the hard work and dedication so many of our past clanmates have put in to making OXP a perpetually strong clan for years to come! So, let's celebrate!

Every year we decide on one headgear item to giveaway to all Clanmates to wear for the day and show Clan pride. This year we have chosen Arc masks. Feel free to find myself or another member of the team for your free Arc Mask to wear =D

Everyone is invited to come to any of the following events! We will be having multiple Boss masses, fun events, and we are giving away over 500m!
Schedule:


All times are in EST CLICK HERE for a Time Zone converter.



12 PM - 1 PM

Mega Duck



1 PM - 2 PM

KK Mass



2 PM - 3 PM

Bossing Broadcast Challenge hosted by So Motivated  -

75m





3 PM - 4 PM

Nex Mass(potentially AOD if we can fill roles)



4 PM - 5 PM

Hide and Seek - 100m



5 PM - 6 PM

GWD2 Mass Barrows Armor Encouraged



6 PM - 7 PM

RS Trivia - 75m



7 PM - 8 PM

Battle Royale - Dragon Daggers -

100m





8 PM - 9 PM

Reset/Sinkholes + DPS Challenge hosted by Concord



9 PM - 10 PM

Vorago Mass



10 PM - 11 PM

Drop Party -

200m+



---
OXP  is  LOVE,    OXP  is  LIFE